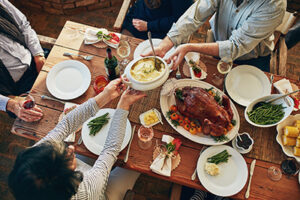 By Jason Rothstein, MPH
For many years, my family celebrated what we called Indian Thanksgiving. We made tandoori-style turkey with a basmati rice stuffing, samosas instead of mashed potatoes, curried vegetables, and loaves upon loaves of stuffed naan. We liked to think if it as Thanksgiving as it would have been celebrated had Columbus found the continent he actually intended to reach.
At the time, I lived on the far north side of Chicago, so it usually fell to me to do the Devon Avenue shopping. I could get samosas, breads, and lox for Friday morning, all in one giant trip. It was my favorite grocery shopping of the year.
One of my strongest memories of these trips was witnessing two women, who seemed to be neighbors but not close to one another, run into each other. One of them, wearing a sari, was loaded down with bags from one of the Indo-Pak bodegas. The other, a Chinese woman, carried several sacks from one of the East Asian markets, as well as a bag with a large live fish. They greeted each other warmly, and immediately started trading notes in thickly accented English about what they were making for the holiday, and about how much they were looking forward to having their families home.
In the U.S., Thanksgiving brings families together no matter what those families look like. And in the Jewish community, Thanksgiving is a chance to get together without worrying too much about how we express (or don't express) Judaism, or about the complexities faced by many interfaith families. For this reason and others, Thanksgiving is the perfect time to talk about family health history.
My wife, Annie, is Jewish. Her sister Dara is Jewish, and married to Mike, who was raised Catholic. It's true that they're both usually at our Seder table in springtime, but it's at our Thanksgiving table where we sometimes get to see his parents, his sibling, and his grandfather. It's the only time of year when we can all exchange information, ask questions, and find commonalities in our family health histories.
We all bring our traditions to the Thanksgiving table. As Catholics from Minnesota, for Mike's family that means dishes like Snickers salad. Go on, click the link.
But we also all bring our personal health knowledge that may help other members of the family, and we bring pieces of the puzzle when it comes to filling in the gaps left by those no longer with us. In Jewish families, this can be an acute problem, with large number of ancestors lost in Europe.
In all families, there are topics we just don't talk about enough, or in the case of difficult subjects like cancer, may not talk about at all. If I share what I know, and my mother shares what she knows, and my uncle shares what he knows, we may just realize that a relative's illness referred to in coded language might have been something with a hereditary component. It gives us more information to bring to our own healthcare providers when we talk with them about our family history.
Bring your health information to Thanksgiving this year. Bring a willingness to share. Bring questions you have for your family and for your in-laws. Bring a resolve to do more to understand your family health history and take action to protect yourself and the ones you love.
(But if you leave the Snickers salad at home, I for one will not mind.)
The Office of the Surgeon General offers a wealth of resources to help families talk about their health histories in November. Visit their website for information and tools.