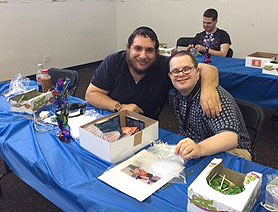 Much has changed about the Sarnoff Center since 2014, starting with the fact that we weren't even the Sarnoff Center back then! We have an entirely different staff, a totally revamped carrier screening program, lots of new and expanded programming, and too many other changes to mention.
But 2014 marked the beginning of what has become one of the Sarnoff Center's most popular traditions: our annual Rosh Hashanah gift bag initiative. We work with synagogues to distribute bags to congregants with honey sticks, caramel apple lollipops, along with a mini brochure about our services and programming.
That year, we had requests from just two synagogues, and one independent city minyan, totaling about 2,700 bags. Every year since, the requests have grown, and this year we will be distributing more than 11,000 bags to 30 congregations in the city and suburbs! This was our biggest year yet, and we knew we needed help.
So, we turned to our friends at Keshet, and their GADOL program. GADOL offers employment opportunities for young adults with intellectual disabilities. GADOL turned our project into a paid learning project for their team members. The experience also included working alongside volunteers from outside GADOL, which included Sarnoff Center staff and some of our Board members.
We are fortunate to do our work in a thriving, diverse Jewish community that affords us the chance to find new ways of working across agencies to serve different segments of our community. We are grateful to Keshet GADOL for joining together with us on this project, and we hope this will be the start of another annual tradition.
L'shana tovah!